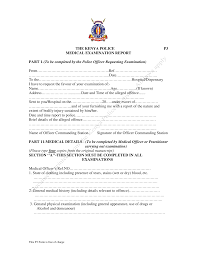 The medical examination report is also known as P3 Form meaning Police Form No 3. The report encompasses the following: 
Injuries section: the presences of injuries on either a complaint or a suspect may indicate the nature, magnitude and probable suspect for the offence committed. This evidence in certain circumstances enables the prosecution to determine the nature of the charge and add value to their investigation. 
For instance, where commissioning of a crime was  stopped by would be victim through maiming of the perpetrators  hand, details of the injury are entered in this section. 
Where the offence is sexual in nature evidence  collected narrows the field towards apprehension of the perpetrator. For instances samples of body fluid can be  matched against those of an alleged suspect.
Age section : Ascertainment of the suspect's age is important particularly where a suspect is below the age of eight years since this particular category do not bear criminal responsibility. Similarly, its important to establish whether the suspect is a minor or an adult. 
Mental status section: the mental status of the person at the time of the commission of the alleged offence is important to ascertain whether he/she was capable of understanding what he/she was doing. The section guides justice agencies on the best cause of action to pursue.
It is salient for me to bring to your attention that upon realization of the manner in which  victims of sexual offence, domestic violence  were struggling to access the P3 forms which procrastinated access to justice, Legal Resources Foundation in 2017 filed a public interested litigation seeking orders  for free access of the P3 form and on April 2019 the court ruled that victims should have free access to this very vital prosecutorial document.