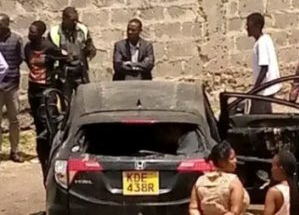 In the recent past,  Kasarani Constituency of Nairobi has become the epitome of death. The middle-class suburb has been a center of attraction as different crimes keep evolving one after the other.
Police are investigating an incident where one Dennis Musyoka, 34, on Sunday, 21 August 2022, at Nasra Estate in Kasarani, requested his ex-wife Elizabeth Munyalo,  to bring their two-year-old daughter, Kesley Mutheu, so that they could bond.
According to the police report, Ms. Munyalo arrived in a Honda Vezel, registration number KDE 438R. Moments later, Mr. Musyoka would enter her vehicle carrying a bag, from which he would remove a knife and stab Ms. Munyalo four times on the left side of her neck before the eyes of their daughter. Fortunately, Ms. Munyalo managed to jump out of the vehicle, only to be rescued by a good samaritan.
On seeing this, Mr. Musyoka set the vehicle on fire while inside, together with the young angel, Mutheu. Members of the public managed to put off the fire and rescue the victims and rushed them to the hospital. Ms. Munyalo is currently recuperating at Mama Lucy Hospital where she is reported to be in a stable condition.
The child, Mutheu, was referred to Kenyatta National Hospital for specialized treatment in critical condition, where she later passed on. Mr. Musyoka succumbed to his injuries on the way to the hospital and his body was moved to Mama Lucy Hospital Mortuary awaiting autopsy. Police recovered a knife and partly burnt five-liter jerrican suspected to have contained petrol that the deceased used to set the vehicle ablaze.