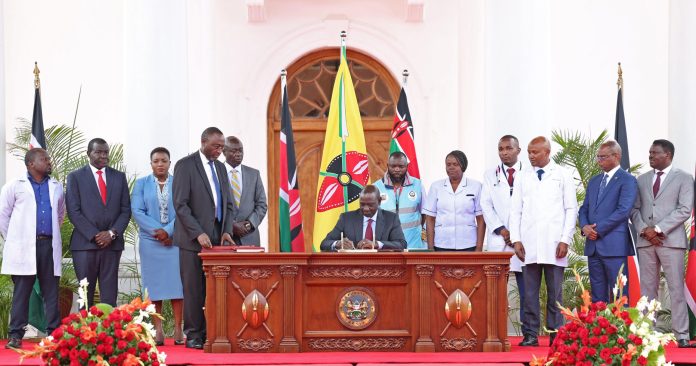 President William Ruto on the 19th of October 2023 signed the Universal Health Coverage (UHC) Bill into Law ahead of the Mashujaa Day celebrations. All workers will be required to contribute 2.75% of their salaries to the new health fund.
The four Bills signed into law include; the Primary Health Care Bill, Facility Improvement Financing Bill, Digital Health Bill, and Social Insurance Bill. The new Health Fund aims to promote Universal healthcare by making healthcare affordable and accessible to poorer Kenyans.
Kenyans will be required to register to the New National Social and Health Insurance Fund to access Public Health Services and those who fail to enroll will be denied health services. This new fund will replace the current National Hospital Insurance Fund (NHIF) which has lost billions of taxpayers' money to corruption ultimately denying Kenyans access to health services.
Health Cabinet Secretary Susan Nakhumicha says the new Health Fund is better than NHIF as it allows Kenyans to contribute according to their income. She said lower earners currently pay a higher percentage of their income than the better off.
Employers and Civil society organizations have opposed the 2.75% deductions as too high. The CSOs said the deductions are substantial and will aggravate the high cost of living considering the recent rise in fuel prices.
Kenyans feel the new health fund is just but a new tax that will worsen the cost of living and just like NHIF, the new Health Fund will be set on corruption.