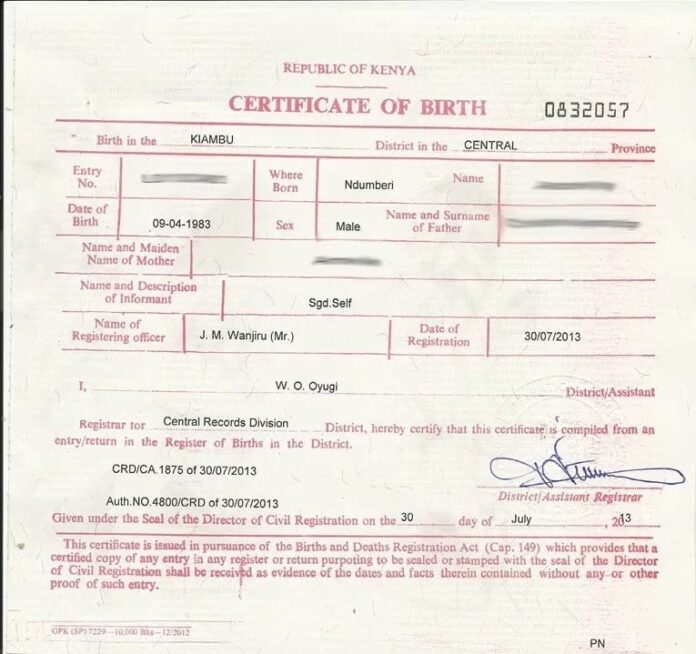 A Birth Certificate is the first official identification document that provides proof and record of the birth of a person. This vital document is required to establish a child's legal proof of identity. Without it, a birth or a child is invincible in the eyes of the government. The net effect is that there is a very high likelihood of missing out on essential services like health care and education, issuance of National Identification Card , Passport etc. 
As a matter of principle, every birth should be registered immediately or within the first six months.  Any registration that follows thereafter is referred to as late registration. Ordinarily, for children born in hospitals, an assistant registrar, who  may be an administrative officer or a medical practitioner, enters the birth in a register which is forwarded to the Principal Registrar.  A birth notification is issued to the parents for presentation and payment of the necessary fee to facilitate processing and issuance of a birth certificate. In the event a child is born outside the hospital for whatever reason, such births legally are reported to the nearest  National Government Administrative Officer (Chief or Assistant Chief) who in turn hands over the said information to the Principal Registrar in readiness for issuance of a birth certificate upon being moved by the parents. Failure to report such a birth attracts a criminal charge otherwise referred to as 'concealing of birth'. A birth certificate therefore is a confirmation that a birth has been registered and entered in the prerequisite government records. Birth registration can be effected online through the  eCitizen Portal, at Huduma Centre or at the Birth and Death Registration Office.  Similarly, the three mentioned platforms can also be used as avenues to replace a lost or damaged birth certificate. 
For any person wishing to change his or her name and the 'window' for second registration (two years from the time of birth) has lapsed, Registration of Documents (Change of Name) Regulations are invoked.  The person wishing to change  his or her name must first and foremost  complete a document otherwise referred to as 'Deed Poll'. Deed Poll are standard forms though their content varies depending on the person who wishes to change a name. Where a minor below the age of sixteen (16) is involved, the parents or legal guardian on behalf of the minor completes the Deed Poll. If the minor is above the age of sixteen, he or she is required to give consent  to the change of name, besides ensuring  the process is witnessed by an Advocate of the High Court, the latter being a statutory requirement. 
Upon fulfillment of the above requirements, the deed poll is published in the Kenya Gazette at  which point, the new name takes effect. Finally, an application for a  new birth certificate bearing the new name is made to the registrar of birth and death.