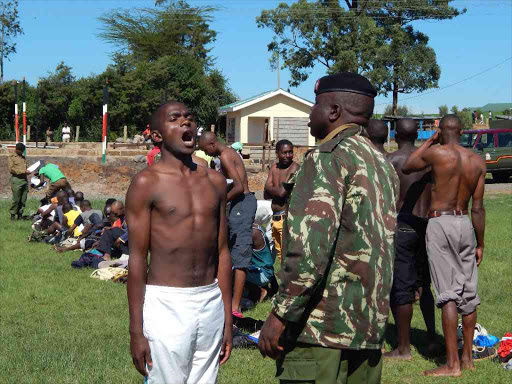 When you see someone with an oversized head, what comes to your mind? You are most probably going to make fun of it. You are bound to make jokes by extension, and even give the person nicknames related to this physical status. This is the sad case for one, John Ogoma, a resident of Siaya County.
Ogoma has reportedly been denied entry into the Kenya Police Service (KPS), because he has a big head. Ogoma does not believe this to be the key player to his entry denial, but other factors, majorly corruption. Ogoma's first unsuccessful trial to the KPS was in 2017, but he was turned away at the last stage of the recruitment process, still at the same stadium. The same reason has been denying him entry into the service, his "big head." Corruption has been known to be prevalent in the recruitment process of the KPS, in essence, Ogoma's "big head" is just but a metaphor. 
In order to have an edge in future recruitment processes, Ogoma enrolled with the National Youth Service (NYS), and studied procurement. Later on, a senior police officer in Siaya, promised him a job with the service, that he is yet to receive. This year's recruitment process will be held at the same venue, on the 24th of March 2022. Ogoma is adamant to win, despite trying for the sixth time.
Michael Muchiri, Siaya County Police Commander, has urged the youth to use proper channels in securing these opportunities, and avoid using shortcuts that will lead them to being cheated. Mr. Muchiri has promised to deal with all allegations of bribery, in order to improve the face of the Police Service.