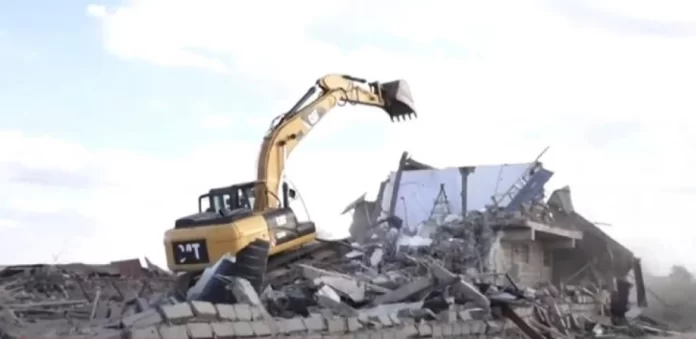 Over 50 residences, business premises, churches, mosques, establishments and makeshift homes have been demolished in Athi River, Machakos County, owing to their illegal occupation of the land.
The demolishes which started on Friday, 14 October 2023 were orchestrated by a Land wrangle between East Africa Portland Cement (EAPC) and the occupants who unknowingly purchased the parcels of land from dubious dealers.
EAPC had file a case at the Machakos High Court over ownership of 1,740 hectares of land in Machakos County that had been illegally occupied. On Monday, 09 October 2023 the Machakos High Court led by judge Lady Justice Annet Nyukuri, ruled in favor of EAPC declaring them the legitimate owner of land LR NO. 10424 located within Athi River in Mavoko, Machakos County.
The Majority of the evictees have lived on the disputed land for more than ten years, making the sudden eviction more distressing, stirring up a growing call for government intervention. The displaced residents have argued that they were not given the customary 21-day notice required by law and are seeking a reconsideration of the court's eviction order.
Surprisingly as of Tuesday 17 October 2023 EAPC announced that it is selling the disputed pieces of land within Mavoko, Athi River. The cement company stated that it would give priority to individuals who were already occupying the said pieces of land.
It remains unclear whether EAPC had the rights to immediately carry out the eviction which led to the demolitions. In the meantime, the evictees plea to President William Ruto to champion their cause, remains a beacon of hope in their struggle for shelter and security.