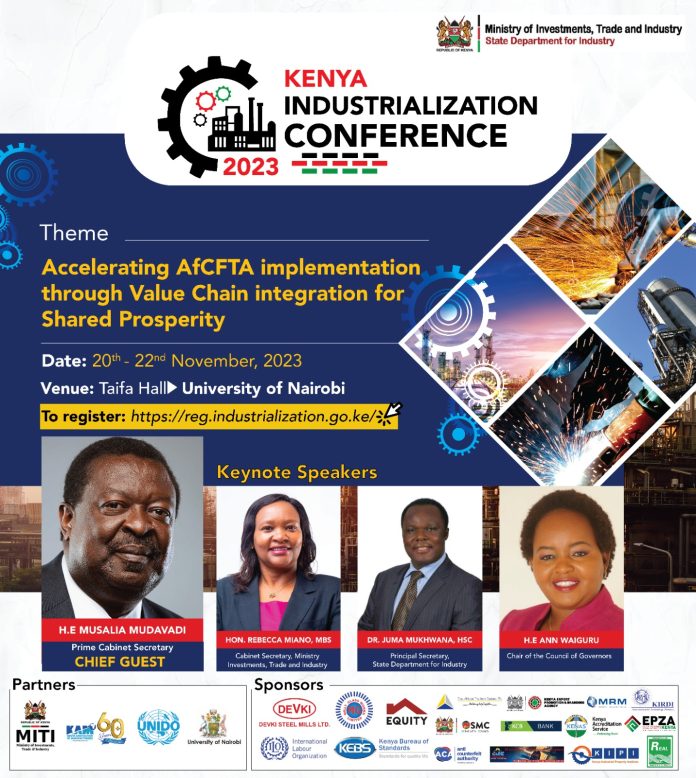 Kenya Industrialization conference 2023 has kicked off today and is set to end on 22nd of November 2023. The theme for the conference this year is ''Accelerating implementation through value chain integration and shared prosperity''. The theme was adopted by The Assembly of Heads of State and Government of the African Union (AU Assembly).
The objective of the conference is to create a platform for the Ministry of Investments, Trade and Industry to solicit inputs from national, regional and international industry stakeholders to inform the development of Kenya's Industrialization Policy, National Industrialization Strategy and programmes.
Transforming the Country's economy through industrialization is among the goals of Kenya vision 2030. Accelerating industrialization will create a vast market and opportunities for Kenyans by way of jobs and incomes and thus the conference will rekindle the country's quest for industrialization and will comprise a Conference graced by eminent speakers that will examine Kenya's industrial concerns and an Exhibition showcasing Kenya's Industrial Development.
The occasion will bring together participants drawn from academia, Industry, policymakers, and development partners from the National, Regional, and international levels to review the performance and status of industrialization in line with international, regional and national best practices, Benchmark Kenya's Industrial performance with global trends, analyze the performance of priority value chains in Kenya in order to determine challenges and strategic interventions and opportunities for driving industrial growth and competitiveness.
The conference is also aimed at determining Kenya's level of industrial technology and innovation in line with 4th Industrial Revolution for enhanced industrial catch up, determining the level of collaboration between tertiary institutions and industry players for enhancing technology and innovation development, transfer and commercialization and developing a National integrated MSI development programme for sustainable industrialization in Kenya.
The Kenya Industrialization conference 2023 will equally review human and institutional requirements for supporting competitive industrialization and current financing mechanism for industrialization and identifying innovative measures and identifying and prioritizing emerging issues and strategic intervention for enhanced global industrial competitiveness.
The three-day events will include experts' presentations on topical issues relating to industrialization, panel discussions, and exhibitions. The anticipated outcomes of the Kenya Industrialization Conference is to report on Kenya's Industrial Performance aligned to the 4th Industrial Revolution for enhanced industrial growth and competitiveness and developing an Industrial transformation framework (2023-2027)