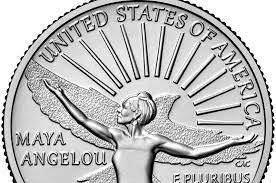 The writer and poet Maya Angelou has become the first Black woman to have her likeness depicted on the quarter, the first in a series of coins commemorating pioneering American women that began shipping this week, the U.S. Mint announced Monday.
This is the first circulation of coins dedicated to celebrating American women and their contributions to American history. Maya Angelou, used words to inspire and uplift.
The poet and writer, who died in 2014 at age 86, was the author of I Know Why the Caged Bird Sings, in which she wrote about the racial discrimination she experienced growing up and was among the first autobiographies by a 20th century Black woman to reach a wide general readership.
She is also the author of 36 other books and the recipient of more than 50 honorary degrees.
Ms. Angelou recited a poem at President Bill Clinton's first inauguration, in 1993, and was awarded the Presidential Medal of Freedom by President Barack Obama in 2011.
The quarter features an image of Angelou with her arms uplifted, a bird in flight and a rising sun behind her, with a portrait of George Washington on the "heads" side. The US Mint said the image of Angelou was "inspired by her poetry and symbolic of the way she lived.
"Each time we redesign our currency, we have the chance to say something about our country – what we value, and how we've progressed as a society. I'm very proud that these coins celebrate the contributions of some of America's most remarkable women, including Maya Angelou," said Janet Yellen, US treasury secretary.