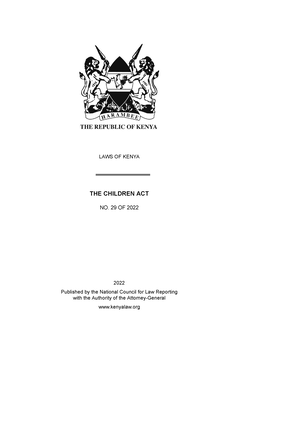 Legal Resources Foundation Trust (LRFT) in partnership with CESVI works towards
enhancing capacity building for police officers, probation officers, children officers,
community paralegals and HRDs, on service provision (legal Aid provision to children)
and advocacy work on issues affecting juvenile justice in Nairobi County as well as
Nationwide.
On the 3 rd and 4 th of August 2023, LRFT conducted two days of training that brought
together 31 justice actors from different departments within the justice system in
Nairobi.
The training was aimed at building the capacity of the participants in Children's Law,
focusing on the roles and responsibilities of different actors when dealing with children
matters.
Seasoned legal practitioner, Ms. Mary Airo, Paralegal Society of Kenya (PSK) national
coordinator, encouraged the participants to always safeguard the best interest of the
child when handling their issues, as enshrined in the Children's Act of 2022.
On the second day of the training, the participants were taken through handling
children with special needs, focusing on detection, assessment, information gathering,
red alerts and introduction to disability terms and alphabets.