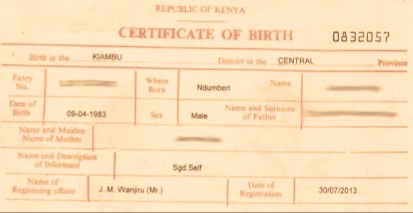 Any child that has been born in Kenya, rural or urban, in the hospital, at home, or anywhere within the country has a fundamental right to be issued with a birth certificate by the government through the office of births and deaths registrar.
When a child is born in the hospital, the doctor issues a notification to the birth registrar's office to notify them of the child's birth and to start the birth registration process. This process provides legal recognition of a child's birth and after the registration, the parents or caregivers of the child will be issued with a birth certificate.
A birth certificate is very important because it is the first document that acknowledges a child's existence. It is the basis upon which children can establish nationality and avoid being stateless. A birth certificate protects children from exploitation, especially child labor and early marriages.
A birth certificate may also be required to:
Enroll a child in school at all levels, i.e., primary, secondary, and tertiary education.
Registration of national examinations.
Application of a National Identification card (ID).
Application for a passport.
Gaining admission to the hospital.
Applying for National Social Security Fund (NSSF).
Entering a formal job market and,
Bank account opening.
If you do not have a birth certificate here are some basic steps on how you can go about to acquiring one:
You will be required to have the original birth notification, a copy of the birth notification, a copy of the mother's ID, a copy of the father's ID, and a copy of the clinical card or the immunization card.
2. Visit your district registrar of births and deaths office with all the documents mentioned above, you will be given a form.
3. You will be required to attach the documents to the form given and return the form to the registrar's office.
4. The information given will be verified and you will then be required to make a payment at the office of the birth registration. The minimum fee is Ksh.50 while the maximum is Ksh.150
5. After the payment you will be given a receipt which you will use to collect the birth certificate after 2 weeks.