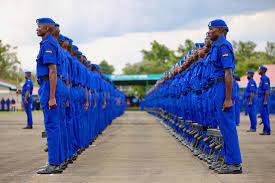 Today, the tendency of someone using words and phrases to dominate over the other, especially when they feel intimidated, threatened or stopped from accessing a particular service or services is on the rise. These victims have manufactured a vice to use assumed power to manipulate their unsuspecting accosters. On Friday, 25th March 2022 at Seasons Lounge, a drinking joint in Kasarani, Nairobi, a woman identified as Elizabeth Wangari, sought the help of two friend police officers from Kasarani Police station, who got into an altercation with a senior Deputy Chief Information Officer (DCIO) from Kayole, Jackson Owino, and arrested him in a dramatic incident that brought business at the entertainment joint to a standstill. 
Detective Owino, who had taken his car for washing, noticed Wangari smoking in the joint, and asked her to stop as it was inapt. An argument ensued and Wangari stormed out while hurling insults at the officer. Moments later, the two police officers identified as Marwa Matiko and Charles Maina, came in attacking and insulting the detective, with Matiko who was in police uniform, pointing his gun at Owino.  The duo overpowered Owino, handcuffed, and frogmarched him to Kasarani Police Station, where he was placed in custody before Kasarani DCIO, David Ekeno, came to his rescue. 
To the shock of the two police officers, they had mishandled a fellow police officer, a senior DCIO at that, and to their amusement, they were instead arrested and booked at the station for assault pending further probation.