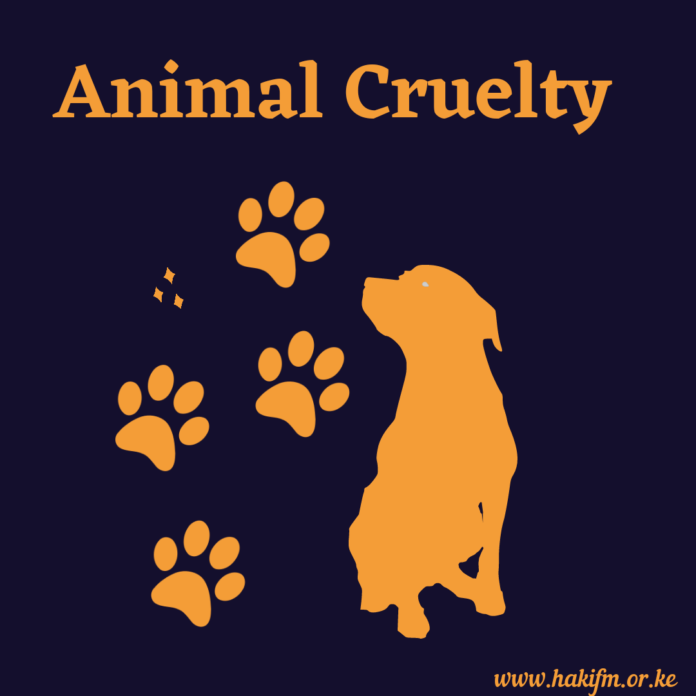 All animals have rights and this is covered in the Kenyan Constitution 2010. It states that biodiversity needs to be protected and that the National Government should protect wild animals in conservation areas, while the county government should protect domestic animals.
An act of Parliament was enacted in 2012 to prevent cruelty against animals. (Prevention of Cruelty to Animals Act 2012). This Act gives guidelines on how animals should be treated. It states that cruelty towards an animal is prohibited. Therefore, no person should be violent to an animal.
In the Prevention of Cruelty to Animals Act (2012), forms of cruelty include but not limited to; beating, kicking, torturing, poisoning, starvation, abandonment and mutilation. All these cruelty forms are offences and one can be charged with the offence of cruelty.
If you commit any of the above acts, you will be found guilty of the cruelty offence that is liable to a fine, not exceeding Ksh. 3,000 or imprisonment, not exceeding 6 months or both. (This is applicable to most cruelty offences but not all).
Below are some of the Cruelty offences and their charges;
Poisoning an animal using grain or flesh that is poisoned is an offence liable to a fine not exceeding Ksh.200.
Using traps and other unnecessary devices to kill animals, is also an offence liable to a fine not exceeding Ksh.500
Training animals in a cruel manner, like hitting them, shocking them, terrifying them, is an offence, and if found guilty, one will be fined Ksh. 2000 and imprisonment not exceeding 3 months.
Slaughtering an animal in a cruel manner or Infront of any other animal awaiting slaughter, is an offence liable to ksh. 2000 fine or 3 months imprisonment or both.
Animals have rights and these rights need to be observed by all and sundry so as to ensure our biodiversity is protected.