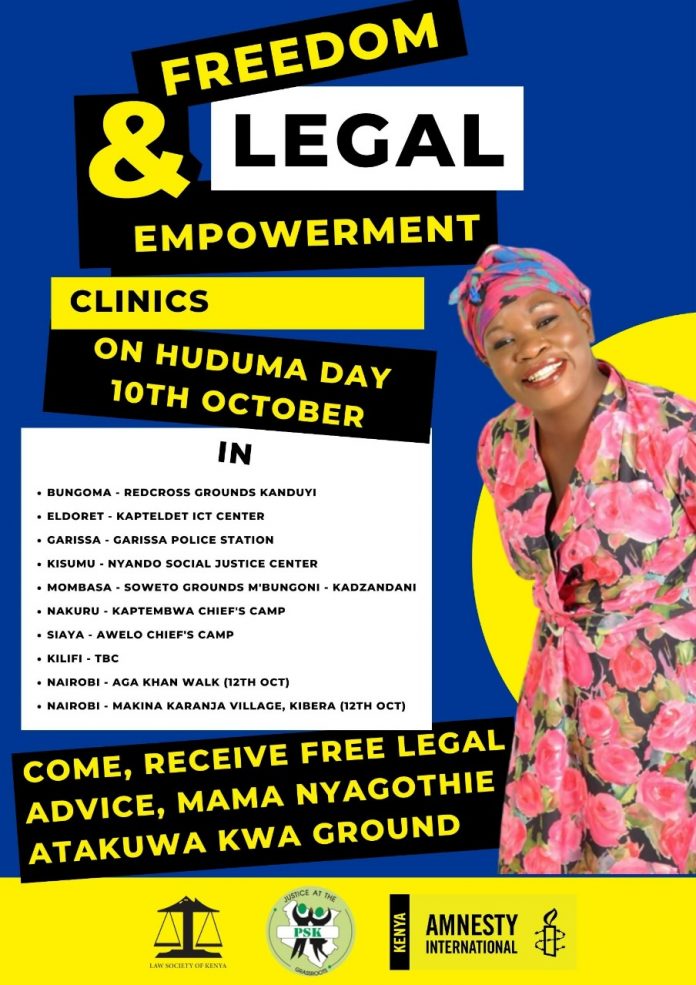 Paralegal Society of Kenya (PSK) and the Law Society of Kenya (LSK) partnered with Amnesty International to hold ten (10) free legal clinics to mark ten (10) years of operation in the country.
Speaking at one of the events held at Aga Khan Walk in Nairobi's Central Business District, LSK Vice Chairperson, Ms. Faith Odhiambo, pointed out that extra-judicial killings of human rights activists, violators, and lawyers should be a story of the past. The Director of Public Prosecution, Mr. Noordin Haji, promised to withdraw all cases against human rights activists, who had been arrested while advancing the course of justice.
Amnesty International Kenya Executive Director, Irungu Houghton, took the stage and celebrated the contribution of all activists who promoted human rights throughout the county's history. Human rights activists come in many forms; Doctors, Journalists, Students, Lawyers, and workers, among others. Mr. Houghton called upon the government to operationalize the National Coroner's Service Act, to enhance police accountability. He added that inequality, impunity and discrimination are still a challenge to human rights and that courts should avoid using contempt of court proceedings, to intimidate Journalists.
The chief guest, Deputy Chief Justice of Kenya (DCJ), Philomena Mwilu, stated that Amnesty International Kenya had a friend in the Judiciary and that the latter is committed to expanding access to justice for all Kenyans.