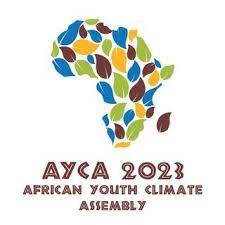 The African Youth Climate Assembly, hosted the 1st day of the Africa Climate Summit today at Kenyatta International Conventional Center (KICC) in Nairobi. This Youth Climate Assembly will be happening from 1st September – 3rd September with the aim of uniting and amplifying the voices of the African Youth and children in the global fight against climate change. This milestone event was earlier on today declared open by His Excellency, President of the Republic of Kenya, William Samoei Ruto.
The Assembly under the theme "African-led Solutions to Global Challenges", will bring together a diverse cohort of young leaders, activists, innovators, and change-makers from across Africa. This Assembly will serve as a rallying point, drawing attention to the unique climate-related vulnerabilities faced by African countries and highlighting the region's substantial contributions to global climate solutions. The African Youth Climate Assembly will emphasize the need for collaborative and immediate action, reflecting the urgency echoed in International climate agreements.
The objectives of the Africa Youth Climate Assembly is to amplify voices of the youth by providing them with a  platform to raise their voices , share their experiences, and contribute to their unique perspectives to the global discourse on climate change. Another goal of this Assembly is to foster the exchange of innovative ideas, strategies, and solutions, empowering participants to address climate changes at Local, National and Regional levels.
The African Youth Climate Assembly will spotlight impactful projects and initiatives led by youth and children, highlighting their contributions to sustainable development and environmental protection. It will also advocate for effective climate policies that prioritize the needs and aspirations of African Communities.
The Assembly will formulate the Africa Youth Declaration In line with the African Union's Climate Change and Resilient Development Strategy and Action Plan (2022-2032) – a policy statement diving deep into the key asks from African children and youth – that will be presented to the African Union and Heads of States and Government at The Africa Climate Summit set to take place from 4th – 6th September 2023.
The Declaration will be a representation of youth voices from across Africa, highlighting key questions and solutions by African youth on climate change. The African Youth Climate Assembly will continue to push the narrative through the preceding climate moments.